October 20th, 2010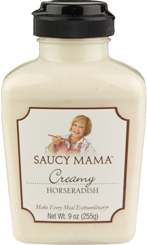 Hey everyone, the Scovies are out, the Scovies are out!
I am very sad to report that due to schedule conflicts this is the first year in many that I was *not* a judge, but I am so happy they got a great selection of both local foodies, reporters, and afficinadoes to taste and judge over 650 products. Wow!
In the end, there was a new first – a tie for the big champion and it was between two of my favorite things – horseradish and chocolate. Yes, you heard correctly. The champion was not a salsa or a BBQ sauce (yay!), but rather products that push the envelope of getting out tastebuds to feel the burn.
TIE: Barhyte Foods' Saucy Mama Creamy Horseradish and Poco Dolce's Super Chile Toffee Squares